31 Jan

The Exciting Opportunities of Mixed-Use Developments

While mixed-use developments aren't new, they are becoming increasingly popular. And it's easy to see why– mixed-use properties offer attractive, safer communities for residents, lower-costs and increased revenue for cities, and lower-risk for investors. Especially in today's pandemic world where all retail saw a loss in foot traffic and there has been an emphasis on staying close to home, mixed-use developments offer a sustainable and profitable opportunity.


What is Mixed-Use?

Simply put, mixed-use developments are properties that incorporate two or more types of land use and blend residential, commercial, cultural, institutional, and/or industrial uses. For example, housing + retail, entertainment + offices, restaurants + services, or any combination thereof. For the purposes of this article, we will be focusing on mixed-use properties that include multi-family housing.

Mixed-use properties are also defined by having more than one significant revenue-producing use, following the same set up as above. By nature, multi-use properties allow investors to diversify their holdings by utilizing more than one revenue generating model in a single property.

Mixed-use developments typically follow a vertical or horizontal structure. Vertical spaces combine different uses within the same building. Typically the lower floors include public spaces such as retail shops, restaurants, and/or businesses. Then the upper floors are used for private spaces like multi-family housing, hotel rooms, or office space. Whereas horizontal developments have single-use buildings within a mixed-use zone. This allows for complementary uses to occupy an integrated, walkable area. Because of the close proximity of these uses, mixed-use properties also foster walkable communities and create a pedestrian-friendly environment.


Benefits/Opportunities

Strengthened Community and Culture: From a user perspective, one of the biggest benefits of mixed-use land is it allows people to live, work, shop, and find entertainment in one place. Especially as many communities are becoming less auto-centric and more pedestrian and bicycle-centric, mixed-use developments can provide not only for the physical needs of communities, but cultural needs! Properties that offer open spaces for concerts, fitness classes, performances, and farmers markets have the opportunity to become cultural hubs for neighborhoods and communities.

Lower infrastructure costs: The social benefits of combining living and working space, creating more walkable space, and building convenient, beautiful centers also have powerful impacts on a community's bottom line. For example, an analysis conducted by Smart Growth America found that on average, municipalities save up to 38 percent on infrastructure costs like sewers and roads when serving compact developments instead of large-lot subdivisions. (Check out the full study from Smart Growth America here.) Other studies have concluded that this number can be as high as 50 percent.

There are also long term financial benefits like reducing the cost of ongoing services including fire, police, and ambulance and increased tax revenues. (Smart Growth America)

Support for local business and increased tax revenue: When retail, restaurants, or services are part of a mixed-use development, residents of the development are more likely to patronize these businesses out of convenience. It also can draw people from other neighborhoods and, thanks to the walkable space, capture traffic from the increased number of pedestrians. This leads to increased economic vitality and tax revenue. According to the above Smart Growth America Study, they found that these types of developments generate 10 times more tax revenue per acre than conventional suburban developments. (Smart Growth America)

Less development risk: Finally, because one plot of land has many uses, the risk is lowered for real estate investors. In times where local retail or restaurant climente may be in a slump, the investor still generates income from the residential spaces, and vice versa.


Mixed-Use Developments in California

Mixed-use developments tend to work best in urban areas, which as California has plenty of. So it is not surprising we are starting to see successful mixed-use developments in our own neighborhoods. For example, in Santa Ana, the Community Development Partners revitalized a former auto-oriented retail center that had not seen significant investment in over five decades and created an "innovative, community oriented, urban hub by providing support for existing retail tenants, updated amenity spaces, and the integration of new affordable housing." (Community Development Partners)

Called La Placita Cinco, this development is a successful example of integrating much-needed affordable housing into an existing residential neighborhood by leveraging underutilized commercial properties. The new development, completed in spring 2021, includes 21 affordable residential units, along with ground-floor community space, storefronts and community gardens. Renovations to the existing plaza and retail buildings included updating the building's exterior, widening the walkways accessing the retail shops to create a more walkable space, adding new landscaping, and changing the parking set-up. They even created a new mini-park and band shell, designed to emulate the former 1950's architecture of the building.

As is clear from the additions detailed above, the goal of this project was not just to build housing, but to build community. They adjusted the "design and details to accommodate the requests of the community (lower density, additional parking, enhanced site amenities), the city (larger, family-oriented housing units, significant street improvements), and financial partners." (Community Partners) Not only does this space create a stronger community, they are creating a stronger economy by uplifting the long-term retail tenants and increasing the appeal and foot traffic of the area. The new spaces created with the development also allow these businesses to expand their operations outside to include pop-up events and outdoor dining.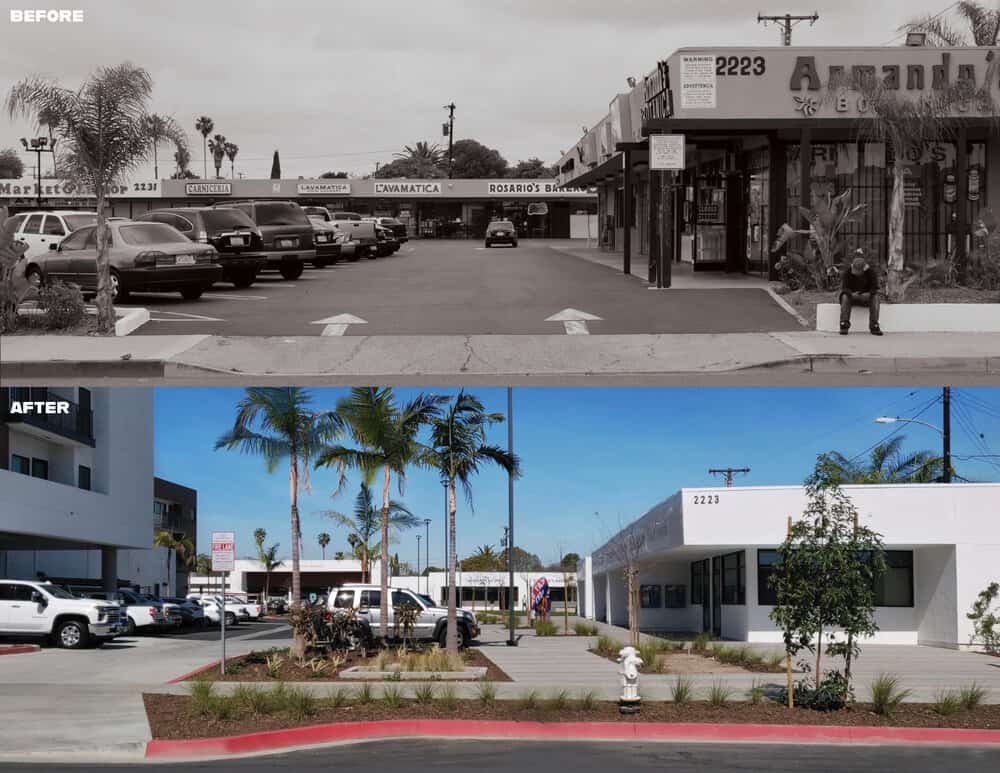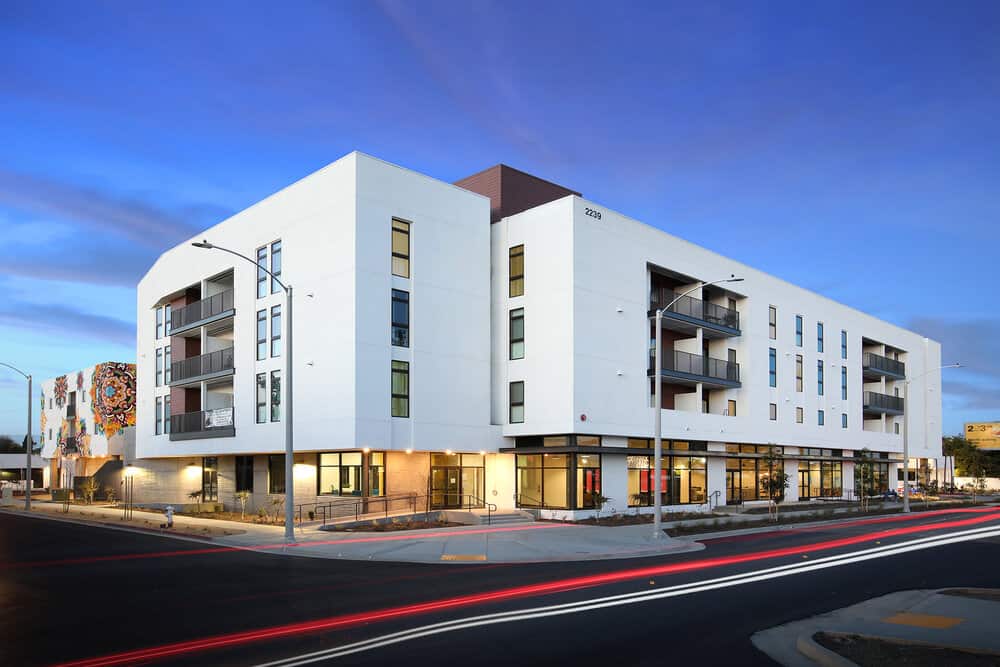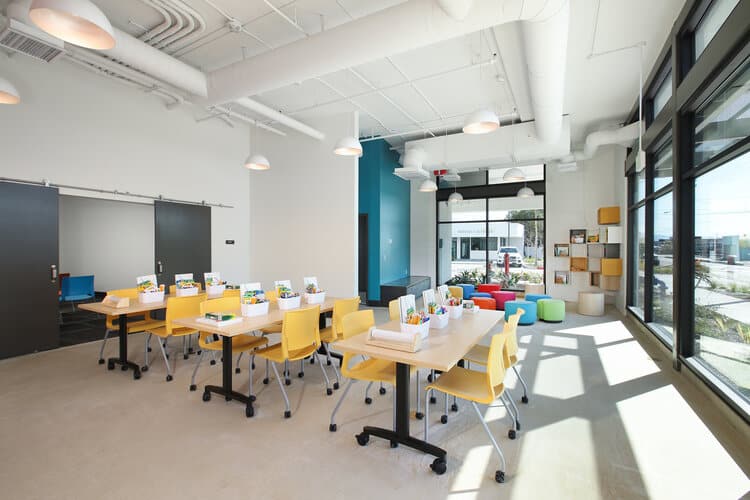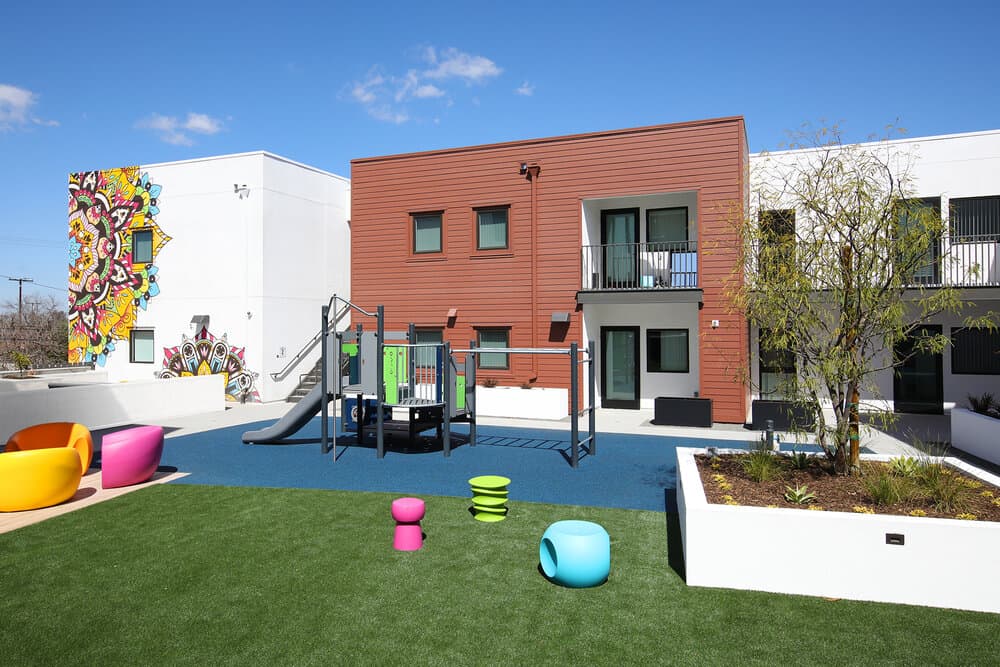 Images and data from Community Development Partners.
Data
Number of Units: 51
Lot Size: 2.33 acres
Density: 21.9 units/acre
Unit Size: 800-1,200 SF
Unit Mix:, 20 2BD/1BA, 29 3BD/2BA, 2 4BD/2BA
Parking Spaces: 148
Affordability: 30% / 50% / 60% AMI
Sustainability: LEED
Architect: City Fabrick, TCA
Contractor: Walton Construction
Property Management: FPI
Non-Profit Partner: Mercy House and Integrity Housing
Another benefit of mixed-use properties, particularly noteworthy for California, is that mixed-use properties are already environmentally sustainable. Simply by keeping business and homes closer together, less transportation, fossil fuels, and road maintenance in a city is required. With the reduced need for personal cars, there is a decreased need for parking lots, which when replaced with open green space, helps mitigate heat gain within the microclimate. Many buildings, such as La Placita Cinco, are also taking further sustainability measures, such as becoming LEED certified. Not only are these measures good for the planet, they are also a great selling point for the development!
If you are thinking this Santa Ana development might be a great, but rare opportunity, it is quite the opposite. According to Multi-Housing News, The New York Times and The Wall Street Journal reported there are an estimated 70,000 similar auto-centric strips and neighborhood-serving centers and parcels like this throughout the nation.
Other mixed-use developments in Southern California include a major redevelopment project in Warner City, called the Promenade 2035, a 23-story, 644-unit, high-rise building in Koreatown, and a recently greenlight project for the Southern California Flower Market in Downtown LA. 
Sources:
https://smartgrowthamerica.org/resources/building-better-budgets-a-national-examination-of-the-fiscal-benefits-of-smart-growth-development/
https://www.multihousingnews.com/from-strip-center-to-mixed-use-the-story-of-la-placita-cinco-in-california/
https://www.communitydevpartners.com/la-placita-cinco
https://www.completecommunitiesde.org/planning/landuse/mixed-use-development/