20 Jan

Make More Money in Less Time with Your Current Real Estate Assets!

Accessory Dwelling Units (ADUs) are more than trendy— they are an incredible opportunity to generate more income from the properties you already own.  Which means ADUs are one of the best ways to get the most from your current holdings.

You might have first heard of ADUs a few years ago when laws passed in January 2017 allowing ADUs on residential lots. Most of these ADUs converted garages into livable units or "Granny Units." However, in January 2020, this law was amended allowing property owners of multi-family complexes to realize the same benefits!

Under these new amendments, you can add 2 new ADU units to any multi-family property. Additionally, you can add 25% more units, all with no additional parking given your property is located within a half a mile of a local bus stop.

Expansion examples:
Duplex: Add up to 2 units + 25% (convert the garage to a unit), becoming a 5-unit complex
4-plex: Add up to add 2 units + 25% (1 unit), becoming a 7-unit complex
20 unit: Add up to add 2 units +25% (5 units), becoming a 27-unit complex
100 unit: Add up to add 2 units + 25% (25 units), becoming a 127-unit complex
As you can see, ADUS can greatly expand your property's capacity and revenue potential!
When does and ADU make financial sense?
To determine the financial viability of adding ADUS, use the 1% rule. (If the rental income that can be generated equals 1% of the build out costs, then this additional make sound financial sense.) Plus, keep in mind that the ADU will add an additional value to the existing property and your investment should realize a 12% ROI. See below for an example value increase per ADU:
Build Costs:

 

$300,000.00
Rent Revenue:

 

3,000.00 a month (1 % of the build costs)
Gross ROI:

 

12%
Additional Value:

 

415,000.00
From empty space…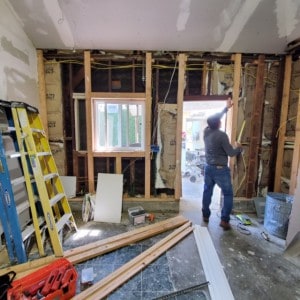 To new, rentable units!
Let's make it happen!
In order to add your new ADUs, construction must be up to code each step of the way— design, plans, permitting and build out— which is a complex process. The good news is Reynolds Realty Advisors can get you through the process quickly, so you can start generating your additional revenue! We are here to manage all of the steps for you. From finding the right contractor, to overseeing the permitting process and construction, we will make sure your ADUs are the best possible revenue generator for you and your property. And once the units are built, take advantage of our full-service property management to ensure the unit is pre-leased and rents collected timely.
Whether you are a long time client or this is your first time hearing of us, we are happy to talk to you about if an ADU is right for your property! Call us at (866) 613-7772 to learn more.