11 Jun

Master the Tenant Move-In Process and AOA Forms
Save the date! We are hosting a free webinar on Thursday, June 17th at 10am PST.
Join the Reynolds Realty Advisors team and the Apartment Owners Association as we share everything you need to know about how to navigate the tenant move-in process and how to effectively use the AOA Forms.
In this FREE event, Olga Bravo, RRA's Operations Manager, and Elizabeth Reynolds, RRA owner and founder, will discuss…
– How to streamline your tenant move-in process
– The ins and outs of selecting and navigating the AOA forms
– Best practices on using the AOA forms for tenant move-in… from a pro!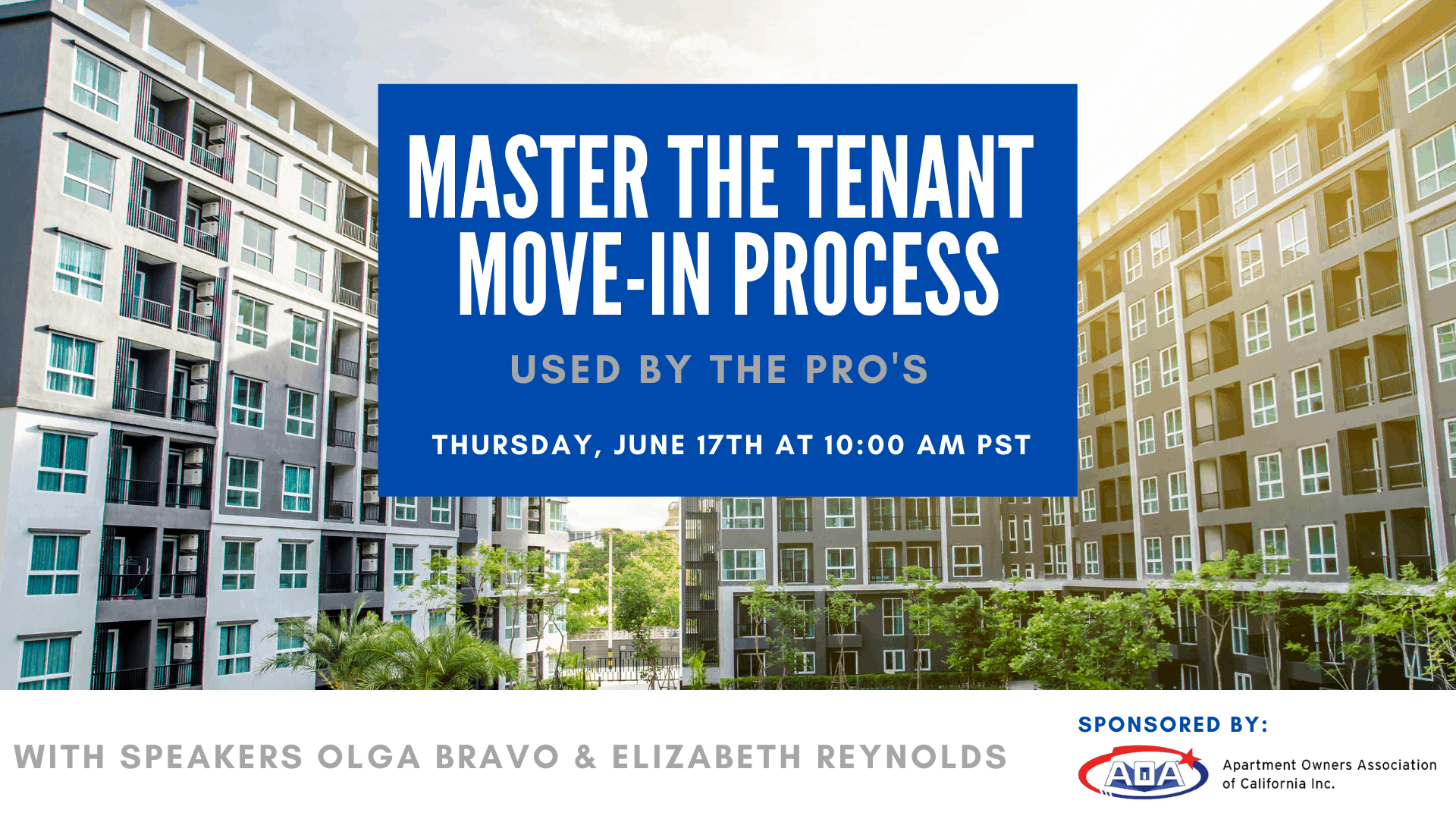 About Reynolds Realty Advisors:
We are proud to be one of the fastest growing property management companies within Southern California.We currently manage hundreds of commercial and multi-family properties for our clients in Los Angeles County, San Gabriel Valley, Inland Empire, San Bernardino, Orange County, and beyond. Reynolds Realty Advisors provides the highest quality management service, at one of the lowest rates in town. As a testament to our quality service, we continue to grow every year through referrals from our satisfied clients. Our full service includes: Property Management, Compliance Management, Tenant, Leasing and Marketing Management, Maintenance/Remodeling Management, ADU Management and Finance Management and Reporting.
About our speaker Olga Bravo:
Olga Bravo is the RRA Operations Manager and brings 15+ years of experience in property management of multi-family and commercial properties.  She has held positions with increasing responsibility including; On-Site Property Manager, Area Manager, Regional Manager, legal liaison and most recently Operations Manager while being an active member within the community and property management industry, supporting key causes and initiatives in the best interest of Landlords and Property Management companies.  Ms. Bravo serves as our expert senior leader for operations with oversight of property related functions including; property managers and maintenance management, within Reynolds Realty Advisors.